RE/MAX Camosun Donates Over $52,000 to Children's Miracle Network Hospital in 2018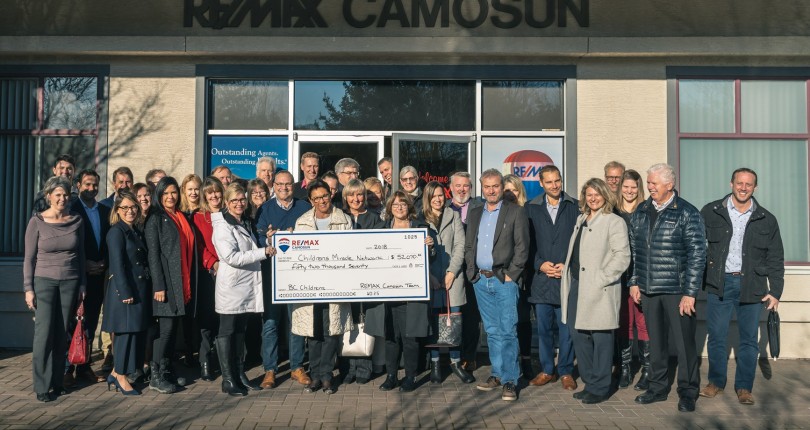 RE/MAX Camosun Donates Over $52,000 to Children's Miracle Network Hospital in 2018
All Funds Raised Help Local Kids Receive Medical Care 
Victoria, BC, Feb 5, 2019– RE/MAX Camosun makes an annual difference to sick children by through REALTOR® donations to Children's Miracle Network Hospitals® (CMN) for residential and commercial transactions. And all donations benefit Children's Hospital and our local children.
Since 2013, RE/MAX Camosun REALTORS® have raised over $247 thousand for our local Children's Miracle Network Hospital®. In 2018, RE/MAX Camosun Affiliates raised over $52 thousand dollars.
"RE/MAX Camosun REALTORS® are so committed to giving back to the community in which we live and work," said Justus Edmundson, Managing Broker of RE/MAX Camosun. "One hundred percent of the monies raised go toward life-saving treatments, medical equipment and valuable research, and it's truly humbling to see their impact on the kids who need it most."
RE/MAX Miracle Agent Offices help make a significant impact on the lives of sick and injured children treated at CMN Hospitals across Canada. Over the years, their support of CMN Hospitals has helped provide life-saving treatments, advanced medical equipment and valuable research and education.
It's comforting to know a RE/MAX sign means more than a sold house. It's the sign of a REALTOR® who cares for our local children, and our community.
For more information about CMN, Miracle Home Program or RE/MAX Camosun please visit www.remaxcamosun.com or call Justus Edmundson at 250-744-3301.
# # #
About RE/MAX Camosun
RE/MAX Camosun is a locally owned and operated full-service real estate brokerage located in Victoria and specializes in commercial and residential real estate. RE/MAX Camosun is a proud supporter of Children's Miracle Network Hospitals, Susan G. Komen®, and other charities. RE/MAX Camsoun has five Victoria locations including 4440 Chatterton Way, Victoria BC, V8X 5J2. To learn more, please visit www.remaxcamosun.com