New RE/MAX Westshore Langford Real Estate Offices Same Great Location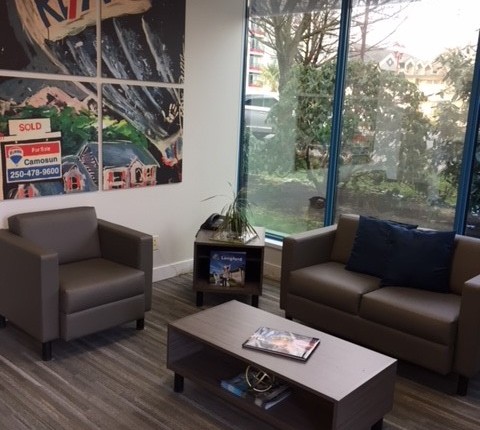 Come by and see the new RE/MAX Camosun Westshore, Langford real estate offices in the same great location! We thought, "Why move when there are so many great reasons to stay?"
Drop in.
Being part of a community is important to us and people mean a lot to our group. Goldstream Avenue attracts locals and visitors with its unique charm and events. Goldstream's vibrant streetscape with its red brick sidewalks bordered by colourful flowerbeds is overlooked by residential complexes in this city core. Close-knit small businesses such as barbers, boutiques, and dance studios occupy the first-floors of most developments and offer services you would have to hunt for in a larger city.
Window display.
We installed the state-of -the-art, back-lit window displays that makes displaying listings and contact information fun and easy to see. This is one of the ways we connect you with one of our agents and the new home you may be looking for.
Knowledgeable and friendly manager.
Together we are better with strong leadership, a vision and support. We believe that having a knowledgeable manager is an asset to our real estate office. She provides the necessary direction and support to help build a successful real estate business. Our manager helps keep the agents in our offices motivated, educated and updates on the newest developments in the market.
Technology savvy.
We are a technology driven real estate office and have embraced technology for several reasons. Two of the most important reasons being:
Connecting with people is one of our values. Through technology we connect with our REALTORS®, staff, community and clients.
Technology is one of the tools in our toolbox aiding in being more efficient and deliver more value t your clients.  We've married traditional real estate and technology to invest in developing systems that connect buyers with the right REALTORS®.
Floor duty.
Our healthy office environment has competent and positive peers with plenty always on floor duty and ready for visit.
---
RE/MAX Camosun Westshore
101-791 Goldstream Avenue
Langford, British Columbia
250-478-9600 | 1-877-553-9601
Each office independently owned & operated