RE/MAX Camosun Donates $42,920 to BC Children's Hospital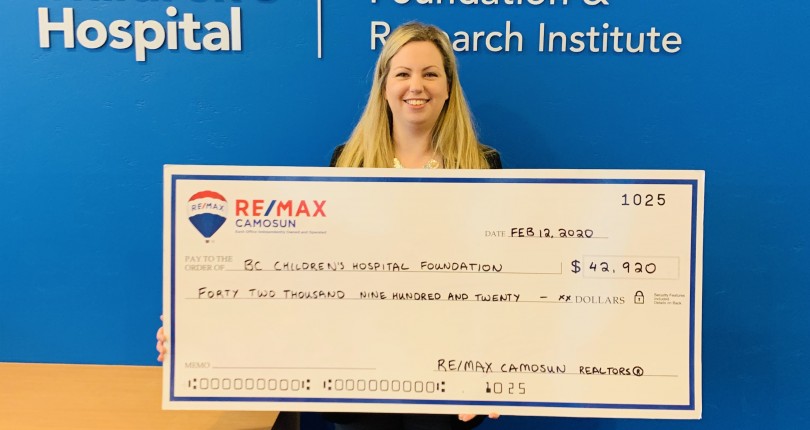 RE/MAX Camosun Donates $42,920 in 2019 to Children's Miracle Network Hospital
There are 1 million children in BC and the Yukon that may need Children's Hospital  3,300 come from Vancouver Island
Victoria, BC, Feb 20, 2020 – RE/MAX Camosun REALTORS® make a difference in the lives of sick kids and their families by continuing to raise funds and contribute annually. Many of them make regular donations to Children's Miracle Network Hospitals® (CMN) after each residential and commercial transaction. All donations benefit Children's Hospital and our local children.
In 2019, RE/MAX Camosun Affiliates raised $42,920 for sick kids. The money donated by RE/MAX goes towards the Excellence in Child Health fund, which allows caregivers in the hospital access to purchase state of the art equipment and fund lifesaving research and help to educate and attract the very best health care specialists in the field.
The real estate /construction industry corporately raises about $1.6 M each year for BC Children's Hospital.
Of that amount, RE/MAX donates anywhere between $800K to $1M of that total each year.
RE/MAX is the only real estate brokerage company that gives at this level to BC Children's Hospital in BC.
Many agents choose to work with RE/MAX because of their commitment to giving back to their communities in this way.
Did you know:
There are 1 million children in BC and the Yukon, that all may need the services of BCCH at some point in their live
Approximately 93,000 children are treated at BCCH every year from minor injuries to serious illnesses, from newborns to 18-year-
Of that amount 3,300 come from Vancouver Island (3.5%)
This week we had the privilege of visiting BC Children's Hospital to present Allison with the RE/MAX Camosun donation.
"We look forward to finding ways to raise more money for this necessary organization," said Tara Campbell " it's a privilege to visit the hospital and see first-hand the impact these funds raised have on sick kids and their families."
It's comforting to know a sold RE/MAX sign means more than a sold house. It's a sign that a donation has been made to help purchase state of the art pediatric medical equipment and fund lifesaving research to care for children.
For more information about CMN, Children's Miracle Network Hospitals® or RE/MAX Camosun please visit remaxcamosunvictoriabc.com or call 250-744-3301.
# # #
About RE/MAX Camosun:
RE/MAX Camosun is a locally owned and operated full-service real estate brokerage located in Great Victoria and surrounding areas and specializes in commercial and residential real estate. RE/MAX Camosun is a proud supporter of Children's Miracle Network Hospitals, Susan G. Komen®, Accessible Trick or Treat, have partnered with The Kidney Foundation of Canada to host a themed game night with the Victoria Royals and other charities. RE/MAX Camosun has five locations to serve you in Victoria wit the main office located at 4440 Chatterton Way, Victoria BC. To learn more, please visit remaxcamosunvictoriabc.com.